Increasing the coverage:
The Cellular/Mobile Phone Network continues to expand at an exponential rate, as the battle for who can provide the fastest and most widespread coverage, wages on. In 2010, the four biggest carriers in the U.S. (Verizon, T-Mobile, AT&T and Sprint) averaged a collective download speed of around 5Mbps, whereas now some networks can boast up to 200Mbps. This increase shows no sign of slowing and has also presented an opportunity for the deployment of polymeric solutions in the Telecommunications industry. This has been proven by one of Belzona's US Distributors (Belzona Technology Washington LLC) who has had major success from cold bonding cell phone antennae mounts on to tanks and other structures.

Problem:
Telecommunications companies attach cell antennae on to the top and sides of water tanks. Many water tank owners require an alternative to welding cell antennae mounting brackets because it will damage the interior coating. In addition, bolting is not feasible and magnets are a very expensive and untested option. So, a cold-applied and proven solution is required, which can support the weight of the antennae.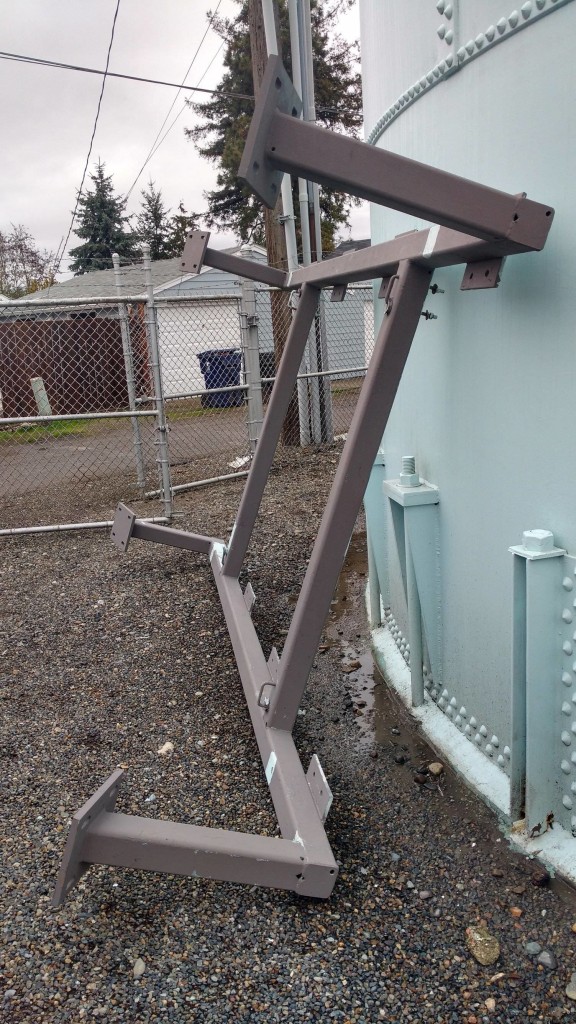 Application Date:
Since 2013, Belzona has worked with local Engineering companies to mount cell antennae on to water tank roofs using cold-applied polymeric materials. This has helped to increase network coverage across the State.
Products:
Utilizing materials that are applied and cured at ambient temperatures can offer a viable alternative for bonding fittings to metallic surfaces which is safer and less hazardous than hot work. In addition, these materials ensure greater contact across the surface area of the bonded plate, as opposed to limited contact with weld seams. Below are examples of typically-used materials for this application:
Application Method:
This video highlights how fittings such as ladders and cell phone antenna mounts can be bonded to tanks using Belzona's cold bonding technology.
Grit blasting is typically recommended by Belzona to achieve the optimum surface profile of 3mils (75 microns). However, if the application is NOT to perform under immersion, 1mil profile achieved with conventional hand tools can be acceptable.
Belzona Facts:
Previously, the asset owners had opted for inferior adhesives or hot work to complete this application, which can cause further damage and increased costs. In particular, failure of the mounts can cost the cell phone company tens of thousands of dollars in fallen equipment, plus the potential physical danger to anyone in the area below. Therefore, asset owners prefer the option to cold bond these mounts in place because of their cold-applied nature and excellent adhesive properties.
As well as the bonding of cell antennae mounts and brackets, often this application extends to cold bonding the cable mounts and trays on the side of the tanks. Since 2013, the Distributor has completed in excess of 110 applications of varying size and scale, generating huge success and successful relationships with the Engineering companies designing the installation schematics. As a result, cold bonding has been introduced into the specifications, in addition to the required presence of a Technical Consultant on site. These factors have helped to make Belzona a perfect match for any Contractor looking to complete the job and they have had resounding success.
Does this solution meet your requirements?
Contact us to see how we can help with your cold bonding needs.
Note: It is our responsibility to protect your privacy and we guarantee that your data will be completely confidential.