INTRODUCTION TO CRACKED ENGINE BLOCK REPAIR
A cracked engine block in a vehicle is not uncommon. What might seem like a disastrous situation, does not necessarily mean the end of the engine's lifespan. The cracks can lead to a series of problems, for that reason they need to be eliminated.  Therefore, there are various methods of repairing cracked engine blocks: from welding and brazing, to cold metal stitching. Belzona offers a solution that does not require hot work or specialist tools.
For the repair of this cracked engine block, we used Belzona 1111 (Super Metal),  Belzona 9111 (Cleaner/Degreaser), Belzona 9341 (Reinforcement Tape), and a few tools from our machine shop. The engine had a few hairline spider cracks. After the surface was thoroughly cleaned, and the cracks were terminated by drilling and tapping small holes at their ends. Studs were then threaded into the holes and cut flush with the casing. The cracks were veed out with a grinder, and the repair area was thoroughly roughened. Belzona 1111 was mixed and applied directly onto the cleaned surface. A small piece of reinforcement tape wetted out with the mixed material was applied over the crack and encapsulated into the Belzona material already applied. Remaining mixed material was applied onto the entire area to create a buildup of approximately 1/8″ (3 mm). The entire application took less than an hour.
Drawing: Cracked Engine Block Repair with Belzona 1111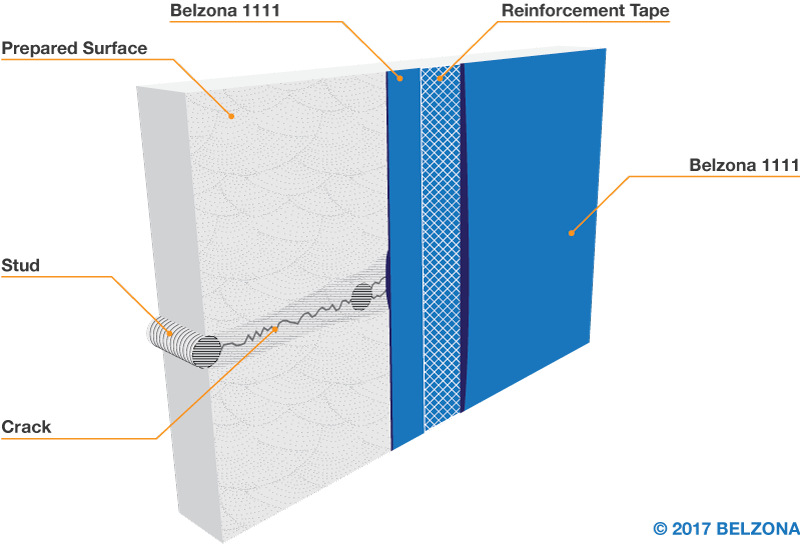 VIDEO: CRACKED ENGINE BLOCK REPAIR
SUPPLIES AND TOOLS USED FOR THIS CRACKED ENGINE BLOCK REPAIR
STEP-BY-STEP INSTRUCTIONS OF CRACKED ENGINE BLOCK REPAIR
Belzona's epoxy solutions can be used to repair cracked engine blocks. Belzona also offer solutions to an extensive range of engineering problems and repair situations.
Interested in purchasing Belzona's epoxy-based composites?
Note: It is our responsibility to protect your privacy and we guarantee that your data will be completely confidential.
Yulia Burova, Marketing Director, Belzona Inc., Miami FL, USA